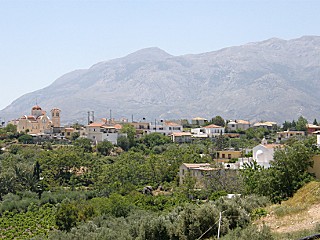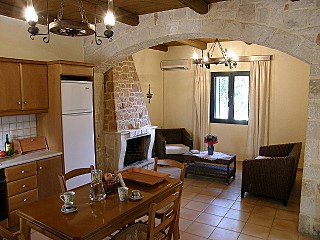 Why book with us:
Explore the island! Christina Villas, are right in the middle of the island, allowing its guests to explore truly the whole island of Crete with easy access to the main national road.
Near Heraklion, Knossos and the airport but many miles away from it, 15 kms away or 15 minutes drive away are very convenient when it comes to either wanting to be near the amenities of the capital of Crete Heraklion or attending a conference or a social event.
Relaxation & Tranquility. The tranquility of the village Pendamodi offers all guests the pause of time they are looking for, relaxing at the veranda or next to the pool and in the evening enjoying a stroll at the old village or in the morning in Nature complete the feeling that time has paused in this place.
Authentic Cretan Experience. Pendamodi and the surrounding area are really the last contemporary Cretan way of living, unspoilt by urbanization or ?resortization?, with only very few, high quality tourism.
Gastronomy. Pendamodi and the surrounding villages are offering a great opportunity for a rich experience in tasting local food, wine and spirits, with us providing a map of the tavernas around. Apart from that our optional service of a private chef at affordable prices enables you to have a deep look at the cretan and greek cuisine, with the offering of cooking lessons and recipes.
Private swimming pool and garden: your own space which, unlike a hotel, is at your solely disposal. Christina Villas are located in a private villa complex and therefore are very safe and offering a certain level of privacy while being very near to Pendamodi.
Landscapes and Nature walking: Pendamodi is itself a very beautiful village to walk, with the chapel of Agia Eirini, it is near the European E4 Walking Path and has great landscapes surrounding it, as the gorge of Agios Antonios. The sightseeing is completed with caves, monasteries and chapels, all described at our guide book.
As if invited by friends. Our Christina Villas staff are always at your disposal for local advice and planning your stay in Crete according to your tastes, with arranging a meeting at the first days of your arrival, cultivating a feeling of being invited by a local friend.
Fully equipped house. From a full kitchen to iron and a wash machine, your stay becomes more convenient with a Satellite TV, our Wi-Fi, the DvD, and a Playstation 2 upon request for our little- or even older- guests. See more at the amenities of each house.
A wide variety of Services at your disposal. Our included in the price services you will find very convenient: twice a week maid service and pool and garden maintaining, an insider book of the local area, as as also a GPS that instructs where to go if needed. As Christina Villas are owned by travel agents, all of high quality tourism optional services are coming with a discount: tickets(domestic), professional guiding, Car Hire, arranging excursion (see Excursions), private chef & cretan cooking lessons.
Health & Safety measures have been taken in order the Villas to be of high standards: Fire protection, and measures to be taken for all safety as also according education for owner and staff.

Christina Villas - A. Paspalakis S.A.
Sohoro Area, Pentamodi Crete Greece, Postal code: 70013
Phone Numbers: +3028970-22137, +3028970-22626, Fax Number:+3028970-21312
MHTE (License No): 1039Κ91003230101