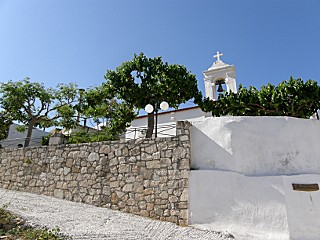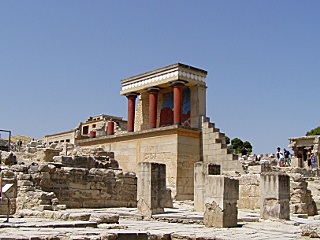 Local area
Pendamodi
Pendamodi is one of the oldest villages of Crete and it is not without importance, that Stefanos Sahlikis wrote his poems there beginning this way in the middle of the 14th century, the Renaissance of Cretan and Greek literature. Today there are a few inhabitants who are well known for their hospitality and sociability.
There are two traditional 'kafenions' one of which also serves traditional 'mezes', Giorgos's "Mezedopoleion", a mix of Cretan cafe and taverna, highly recommended by our guests for his hospitality and dishes. Additionally, a selection of brilliant local taverns can be found within a few kilometres in the surrounding villages and the Christina complex modern snack caf? is always an alternative and on site.
The village layout, cobbled roads and stone-built houses maintain the design, architecture and structure of the old days. Conveniently located just 15 kilometers from the island's capital Heraklion, yet a million miles away from its hustle and bustle, some excellent walking country is almost on your doorstep, with the European Hiking Path passingclose to the nearby village of Ano Assites, and encompassing many Byzantine Chapels, ravines, river valleys and holly forests, it is truly a place of outstanding natural beauty.
The area
The main sources of production are agriculture (olive trees and vineyards) and cattle raising (sheep) and beekeeping. Other activities in the region are the following: olive oil production, cheese and dairy production, which is a significant attraction for the visitors to the area, as well as traditional weaving, commercial activities and public services.
Shopping
Pentamodi village has two small shops, as well as the mini market on site, and should cater for all your needs. These sell a range of groceries, fruit and vegetables, wines, dairy products and fresh bread. It is usually possible to obtain local olives, oil, raki, honey, cheese, yogurt and other fresh produce. Local wine known as village or barrel wine can also be purchased.
Agios Mironas has some interesting shops, as does Voutes. Visit Voutes local patisserie/bakers, where you can find excellent 'home made' biscuits, as well as meat and cheese at the butcher's.
On your way to Heraklion, after the University Hospital, there is also a great bakery shop as well as a market with organic vegetables and fruits.
Official opening hours are 08.30 to 13.30 Monday to Saturday and 17.30 to 20.00 on Tuesday, Thursday and Friday. However, shops catering for tourist, and some small mini markets will open 7 days a week, until late in the evening, except perhaps in early season.
Supermarkets
While we recommend that you shop locally and support the small traders, you may occasionally prefer the wider choice available. Heraklion hosts a large supermarket that can be located on the road to Ammoudara heading through Heraklion. They are open Monday to Saturday 08.00 to 21.00
Markets
There is an outdoor market every Saturday in Heraklion. It is situated at Patelles of Heraklion, very near the Katsaba Bridge starting at 08.00 and closes at lunchtime. You may find a good bargain. Also you can find another one at Tuesdays at Alikarnassos, very near the airport.
Beaches around & waterparks
15 kms from the famous Amoudara Beach (15 minutes drive). Amoudara Beach is 6 kms long and is famous among locals and foreigners for its thin golden sand. It has parts with a lot of people, while others with few, also it has restaurants, cafes, water sports, beach bars.
Another choice near, recommended from our guests is Lygaria , a more quiet and family beach, located at a gulf, suitable for windy days. Amnissos, Karteros and Paliokastro beaches are also within short drive distances.
Both waterparks are near the same distance 35-45 kms away. The parks open usually in late April and are operating 7 days a week from around 9:00 until 18:00 approx. If you would like to visit one of them, we will be more than happy to provide discounts for your family as cooperating with them.
Sightseeing
Please ask our representative for more information.
Pendamodi & the area
Archaeological & Historical Museum of Crete in Heraklion
Koules Castle in Heralion
Agios Minas Church in Heraklion
Traditional market in Heraklion
Kazantzakis Grave in Heraklion
Knossos archaeological site in Heraklion
Pendamodi's walking around.
Agia Eirini's walking route in Pendamodi
Rizhinia archaeological site in Prinias
Nichteridospilios cave in Ano Assites
Kynigospilios cave in Ano Assites
Siderospilia cave in Ano Assites
Monastery of Gorgolaini in Kato Assites
The uninhabited settlement of Nisi
Agios Antonios church in Kato Assites
Agios Georgios Messambelitis Church in Pyrgou
Quirini Fountain in Pendamodi
Vromonero walking in Kroussonas
Agios Andonios Gorge & E4 walking path
Anogia village
Tylissos archaeological site
Ano Archanes village & archeological site
Zaros Village
Gortys archaeological site
Agia Eirinis's monastery near Knossos
A little bit further in Heraklion area...
Phaestos archaeological place
Kommos beach & archaeological site
Matala beach
Agiofarago "the saints's gorge"
Kaloi Limenes beach
Distances from Christina Villas
Heraklion airport : 20 kms
Heraklion: 15 kms
Amoudara Resort & Beach: 12 kms
Pendamodi: 50 m.
Knossos Palace: 22 kms
Crete Golf Club: 50 kms

Nearest Airport : Heraklion at 20Kilometres
Nearest Ferry : Heraklion at 15 Kilometres
Nearest Beach : Heraklion Amudara at 15 Kilometres
Nearest Bar/pub : Pendamodi at 50 m.
Nearest Restaurant : Pendamodi at 50 m.
Nearest Mini Market: Pendamodi at 50 m.
Days out
For those going around Crete...
Suggested Itineraries for our Christina Villas Guests
Please note: you can consult our representative and he can suit the itineraries to your needs.
The places are chosen on a highlight basis: if you are a Crete veteran please advise.
Pendamodi - Knossos - Archanes - Peza
Pendamodi - Faistos - Matala
Pendamodi - Spili - Agia Galini - Rethymnon
Pendamodi - Rethymno - Spili - Plakias - Preveli - Agia Galini
Pendamodi - Fodele - Bali - Rehtymnon
Pendamodi - Anogia - Rethymnon
Pendamodi - Aquarium - Malia (arch. Place) - Krasi - Lassithi plateau - Dikteon Cave
Pendamodi - Lassithi Plateau - Dikteon Cave - Agios Nikolaos
Pendamodi - Elounda (Spinalonga) - Agios Nikolaos - Kritsa
Pendamodi - Ierapetra - Xerokambos - Ano Zakros (Source) - Vai beach - Sitia
Pendamodi - Mochlos - Agios Nikolaos - Vai Beach - Sitia
Pendamodi - Fodele - Rethymno - Kournas - Chania
Pendamodi - Rethymno - Elafonisi
Pendamodi - Kissamos (Gramvousa)
Excursions & Entrances to interesting places
Enjoy our discounts as a Christina Villas guest.
SANTORINI: With an excursion or go on your own. One day cruise
SAMARIA GORGE
JEEP SAFARI
CRETAN NIGHT
ACQUA PLUS
WATER CITY

Christina Villas - A. Paspalakis S.A.
Sohoro Area, Pentamodi Crete Greece, Postal code: 70013
Phone Numbers: +3028970-22137, +3028970-22626, Fax Number:+3028970-21312
MHTE (License No): 1039Κ91003230101